Against Me! and Baroness with special guest Destroy Boys
ATTENTION:
The Against Me! and Baroness show scheduled for May 8th, 2020 at Washington's has been canceled. Refunds will be processed as soon as possible, at point of purchase and you will receive an email from Eventbrite once it has been completed. Please check your spam box in case the email ends up there. You can reach out to boxoffice@washingtonsfoco.com with any questions. We appreciate your support for Against Me!, Baroness and Washington's and we look forward to seeing you at a future show!
Four years is a measurement of time that America has used for centuries to indicate change. Presidential terms last four years; high school diplomas and college degrees typically take four years apiece, too. It's not an arbitrary thing, either: It typically takes that much time from the declaration of something changing for it to actually change.
Meet Laura Jane Grace. Four years ago, the Against Me! frontwoman came out as transgender; 18 months later, she released the band's sixth album, the fiery Transgender Dysphoria Blues, one which she began working on before her transition and helped document the struggles she was facing. It was an intensely personal record that took on a life of its own, connecting with thousands of new listeners drawn to Grace's honesty and complexity while still pleasing Against Me!'s dedicated fanbase.
Now, four years after Grace's public reintroduction, Against Me! is ready to release their new album, Shape Shift With Me, September 16 on Total Treble. While much has changed in the lives of Grace and her bandmates—guitarist James Bowman, bassist Inge Johansson and drummer Atom Willard—in that time period, it's clear that those intervening years have done wonders for creativity.
"Everything with Shape Shift With Me has been really about keeping momentum going," she says. "In between every tour we did for Transgender Dysphoria Blues, I would have a couple songs I had written and we would demo them. At the end of two years of touring, we had an album ready to record. Usually, you come off of touring for a record and you're back at square one. But this was so fully formed it felt like there was no choice but to go ahead and record the songs."
Shape Shift With Me has the distinction of the first album Grace has written truly from the heart, with no metaphorical cloaks cast over the lyrics. It's an album about love, that deceptively complex emotion we all struggle with yet has somehow eluded most of Grace's songwriting for the past 20 years.
"Tons of people have written about love. But while love is cliché, it's infinitely relevant. For me, having always been in a punk band that was expected to be political, I never felt like I had that option to write about feelings in that way. That's what I ended up being drawn to this time. It's writing in a way I thought I could never write before, and not giving a shit about expectations."
As such, Shape Shift With Me is a loose concept album about traveling the world and falling in and out of love, with Grace serving as the narrator. But even though she was opening herself up to new songwriting topics, she knew what her mission was from the start.
"Is there a record that is about relationships from a trans perspective?" she asks rhetorically. "There needs to be more records about trans rights and everything like that, but feeling like I already did that, I wanted to move on to write commentary on living from a trans perspective. I wanted to write the transgender response to the Rolling Stones' Exile On Main St., Liz Phair's Exile In Guyville and the Streets' A Grand Don't Come For Free. All those records are relationship records. There's been an infinite amount of records talking about what love means from a cisgender perspective. I wanted to present the trans perspective on sex, love and heartbreak."
With Grace's new motivation came a new outlook on the band, as well. Previous albums found the songwriting process to be a largely solitary experience, but she embraced the spirit of collaboration for Shape Shift With Me—so much so that when Cody Votolato of the Blood Brothers sent her some demos of songs he was working on for another project, she became inspired and ended up co-writing "Boyfriend" and "Norse Truth," two of the album's most memorable tracks, with him.
"It was just about opening up to whatever comes my way karmically," Grace says. "Whatever everyone in the band is willing to offer, I just wanted to be open to it. I didn't want it to be like what it was in the past where it may have felt closed. I want it to be different."
In a career already full of classic punk records, Shape Shift With Me feels like the definitive Against Me! album—it's poppy and catchy ("Rebecca," "Suicide Bomber"), aggressive and in-your-face ("ProVision L-3," "Dead Rats"), sentimental and longing ("Crash," "All This And More"). Moreover, it's the culmination of four years of existence as Laura Jane Grace—there's no going back now, so she might as well embrace it.
"While I've always wanted the moon and the stars, I have a certain amount of humbleness," she admits. "I just want to play shows and make records and write songs. That's what I've always wanted to do. Of course I always want the biggest and best things for those shows and records and songs, but when it comes down to it, I just love doing it. I have no other ambitions or career goals.
"David Bowie put out 27 full-lengths. Prince put out 39 full-lengths," Grace remarks. "That is so inspiring to me—working, creating art, creating records and let everyone else sort it out. That's what I've always wanted to do and that's what I will keep on doing."
-------------------------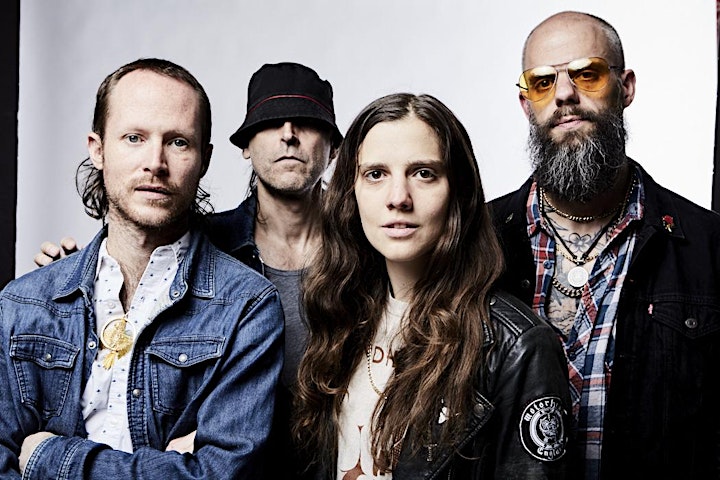 Grammy-nominated exploratory rock band Baroness return with their most ambitious work to date, fifth album Gold & Grey. Set for release on the band's own Abraxan Hymns, Gold & Grey spills triumphantly past genre barriers, their anthemic alt-metal hooks ricocheting between the circuitous twists of prog and jazz, the moody swirls of space-rock and noise, and the hypnotic pulses of trip-hop and 20th Century minimalism.
"This is the most clear representation of the artistic vision I have for the band that we've ever done," says Baroness vocalist, guitarist and founder John Baizley. "I'm surprised that we got as far with it as we did."
Baizley sees the diverse, adventurous album as a "lateral step" from the streamlined, immediate guitar-rock of the band's last release, Purple, championed by Rolling Stone, Pitchfork and L.A. Weekly as one of the best metal albums of 2015. Gold & Grey works like a melodic puzzle, melodies and harmonic ideas borrowed, repurposed and reinterpreted across three sides of vinyl. Lyrics are full of sonic Easter eggs; unorthodox prog is hidden inside the most accessible songs; tunes emerge from swirling chaos and dense layers of sound. The album is given color by strings, glockenspiel, tubular bells, piano, synthesizers and even field recordings of the chaos after a transformer blew up outside of the recording studio.
"The term I kept using was that I wanted to create something that was more kaleidoscopic than our former records," says Baizley, who embraced the wide lens and limitless journeying of artists like Pink Floyd, Neurosis, Massive Attack and Scott Walker. "We were trying to say something new with our instruments, with our sound intact, with the spirit of the band intact, but not applying the typical conventions when possible."
For the first time ever, there's a spotlight on Baroness' powerhouse rhythm section – driving-and-spilling drummer Sebastian Thomson (Trans Am, Publicist) and jazz-honed bassist Nick Jost. Bustling with rhythmic complexity, the band occasionally swerves into highways of math rock, post-rock, krautrock and various strains of electronic music. In addition, the band has absorbed Gina Gleason, a gifted guitarist whose résumé includes playing with Cirque du Soleil in Las Vegas and jamming with both Smashing Pumpkins and Carlos Santana. Gleason's voice harmonizes with Baizley and Jost, bringing new tone to the band.
"It's great for me to have such a full-bodied trust in the other musicians in the band because they play at such a high level," says Baizley. "I never, ever in a million years thought I'd play with musicians of that caliber and now I'm surrounded by them."
Like Purple, the band recorded with prismatic, Grammy-winning producer Dave Fridmann (Flaming Lips, MGMT, Mercury Rev) at his Tarbox Studios. "There were so many split second decisions and just weird ideas that got used," says Baizley. "I credit Dave for a lot of this because he was never one to say 'No, that's insane.' It was like almost the more out there the idea, the more likely he was to encourage it to be developed and grown."
"We went outside, in front of Dave's studio, on one of his off days, we miked up a wooden post and hammered a nail into it," says Baizley. "There's so much hidden in there. There's also some audio samples of some of my friends. I literally did the Pink Floyd thing. I set up a little booth in my basement. I said, go down there, you got five minutes, tell me the toughest thing you want to tell me. And boy, it was tough to listen to. I pulled those quotes, effected them and they popped into one of the tracks."
Lyrically, Gold & Grey plumbs similar depths of emotion. On previous albums, Baizley has sung boldly and openly about his mental health and the recovery process from the traumatic bus accident the band and their crew suffered in 2012.
"Where Purple was me lyrically trying to work out how to adjust to a new normal, I think Gold & Grey is a more grown-up and more subtle collection of words that reflect how I am trying to deal with the longer term effects of having experienced so many terrible things," says Baizley. "There's a mental component. There's a physical component. I choose to use the band as a place where I can take all of this stress, pain, anxiety, all these realities, and make them something good."
Nearly 15 years since releasing their first EP, Baroness are finding a way forward by reveling in chaos.
"We'd listen to playback and there was a general sense of confusion," says Baizley of the Gold & Grey sessions. I couldn't figure out how Gina was making that sound. I didn't understand how the rhythm that Nick and Sebastian were playing worked with what I was doing – but it did. It was a really exciting to feel like we were maybe on the edge of just falling apart. We didn't want to know what was going on. We wanted to be always a little bit surprised by ourselves."
-------------------------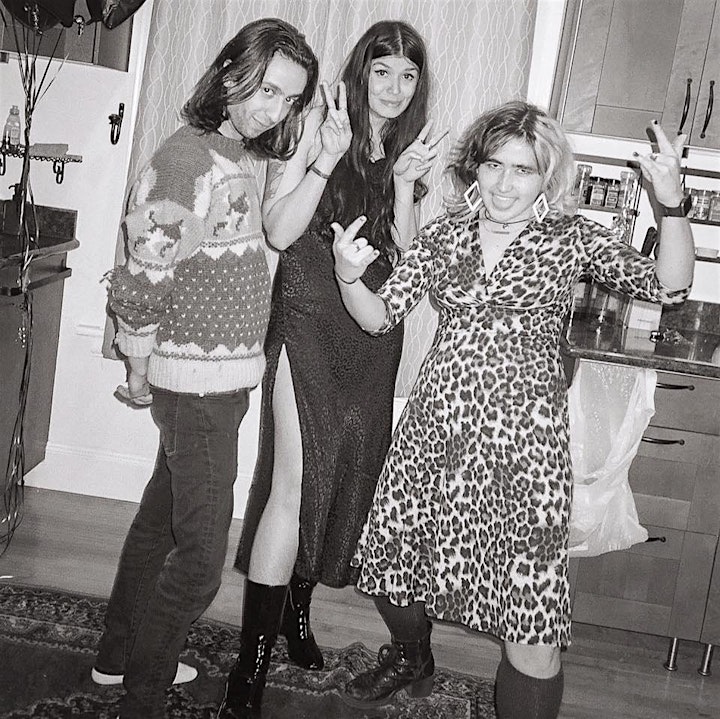 Formed in 2015 and carrying on the riot girl legacy, Destroy Boys are redefining Left Coast punk. Equal parts hardcore and fun, Destroy Boys is what would happen if Blondie stumbled into a Misfits recording session. Lead singer Alexia Roditis' haunting melodies and Vi Mayugba's shredding guitar are both an homage and an evolution of all things classically punk. The duo's latest album, Sorry, Mom, is a manic reminder of how recklessly expressive punk rock was designed to be and earned them a mention in Rolling Stone magazine by legendary Green Day singer Billie Joe Armstrong in 2016 before either had graduated high school.

With a couple of tours up and down the West Coast under their collective belt, Destroy Boys is hard at work on their upcoming project, while heading off together to attend college at Oakland's esteemed Mills College. Destroy Boys also received two 2017 SAMMIE awards in the Best Punk/Post Punk Band and Teen band categories, as well as a nomination for the Best New Artist category.

-------------------------

Standing Room Only, General Admission Venue.

-------------------------

Venue Information:
Washington's
132 Laporte Ave
Fort Collins, CO, 80524