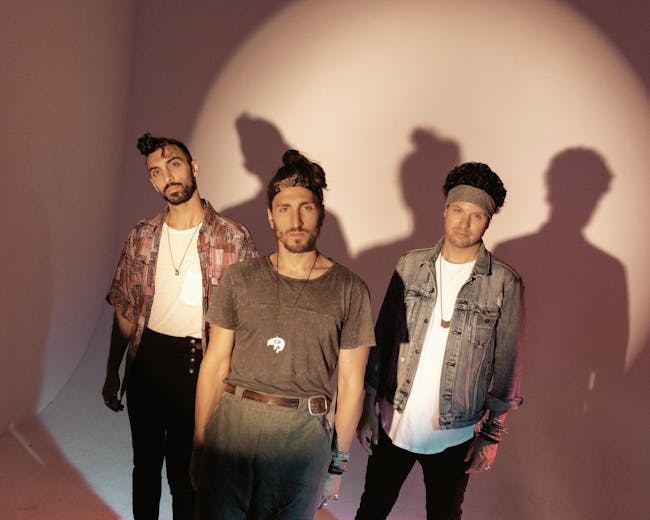 MAGIC GIANT with special guest The Collection
ATTENTION:
The MAGIC GIANT show scheduled for April 9th, 2020 at Washington's has been canceled. Refunds will be processed as soon as possible, at point of purchase and you will receive an email from Eventbrite once it has been completed. Please check your spam box in case the email ends up there. You can reach out to boxoffice@washingtonsfoco.com with any questions. We appreciate your support for MAGIC GIANT and Washington's and we look forward to seeing you at a future show!
"Maybe the world is broken, but our house is always open."
A dynamic blend of alt-rock meets pop wrapped in a festive, down to earth package, MAGIC GIANT have shown their progressive layers with their captivating new single "Disaster Party." The group made up of Austin Bisnow (vocals/percussion), Zambricki Li (fiddle/banjo), and Zang (guitar) have recently been working on their new album from The Bunker, a 1940's underground bomb-shelter the band converted in Silverlake, CA. Leading the way into their new album, their new single "Disaster Party" turned the fires of Los Angeles into a way to unite the community.
"Any time when shit is hitting the fan, instead of having a pity party, throw a disaster party," Zambricki explains. "The band was out in the valley recording at a studio that almost got consumed by flames. The neighborhood got together, created their own mini force and fought the fire themselves when needed. When everyone was gathered at the center before evacuation, it was the first time some neighbors who lived within a few houses of each other for years ever shared a word."
"Disaster Party" blends pop verses with alt-rock hooks while balancing the intrinsic meaning behind the track. Their upcoming album holds notes of growth and "digging deeper."
-------------------------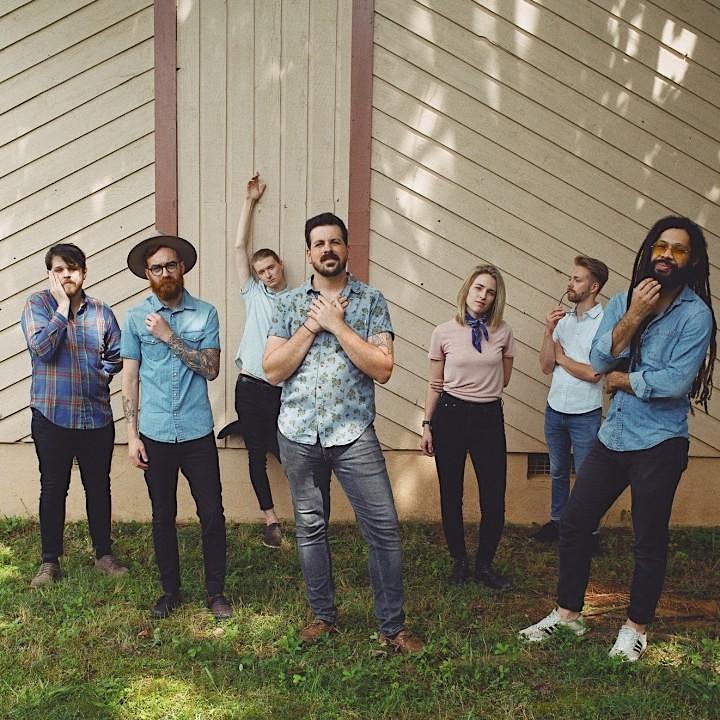 "Entropy / ˈentrəpē/ noun. 'lack of order or predictability; gradual decline into disorder.'

On the surface, the name of NC band The Collection's new album, 'Entropy,' may seem deceptive. Over the four years since the release of their chamber pop, 25-piece ensemble debut, 'Ars Moriendi,' the band shed enough weight to become an efficient touring band, garnered praise from NPR and American Songwriter, toured nationally with bands like The Oh Hellos and Lowland Hum, and performed dynamic sets at CMJ and New Music Seminar as an official "Top 100 Artists On The Verge."

The trimming-of-the-excess was soon mirrored in vocalist David Wimbish's spirituality, resulting in the band's 2017 follow-up, 'Listen To The River,' The Collection's first member-arranged group of songs. Inspired by Herman Hesse's 'Siddhartha,' and the poetry of Rumi, the album took a step off of the fence walked between faith and doubt on Ars Moriendi, landing distinctly on the side of doubt. The constitutive single, Sing Of The Moon, received over 3 million streams between Youtube and Spotify, the release tour brought hundreds of people to venues across the country, and The Collection was featured at Wild Goose Festival, and Switchpoint Conference alongside PRI's Marco Werman.

Even Entropy's debut single Beautiful Life, which PopMatters called, "symphonic, poetic wonderment," seems to be about finding order by watching the natural world. Beneath the surface of all of this, however, is another story.

During the recording of Listen To The River, then-married band-members David and Mira Joy ended their marriage. Though committed to finishing the project peacefully together, the next months were a chaotic chain of events that left them with a totalled car, no house, no work, few friends, and the dwindling commitment of some bandmates.

Starting over alone in a new city, Wimbish began to write for a new solo project, freed from the assumed expectations of fans and band-members. The result was the most focused, honest, and intimate batch of songs the 27 year old songwriter had written, lyrically and musically. As the writing progressed, and the band had to stare it's impending death in the eyes, a solid and enduring core emerged. Members Hayden Cooke (Bass), Joshua Ling (Harmonium/Guitar/Vocals), and Graham Dickey (Horns/Bells) lent their performances to David Wimbish's (Vocals/Guitar/Keys/Strings) fleshed out songs, birthing The Collection's 3rd full-length record from the ashes of the unfinished solo project. With the addition of husband-and-wife Joshua Linhart (Drums) and Sarah McCoy (Keys/Synth/Vocals), the band finally found its firm footing.

And that is where the story of Entropy is revealed: Though meant to document David's life's gradual decline into, and subsequent recovery from, disorder, the album became a living testimony to The Collection's own experience of entropy. Now, with the wisdom of hindsight, the band is back and focused, with a passion for sharing what they've learned: that on the other side of disorder lies a new sense of beauty."

-------------------------

Standing Room Only, General Admission Venue

-------------------------

Venue Information:
Washington's
132 Laporte Ave
Fort Collins, CO, 80524