Wasteland Hop with Other Black and Guerrilla Fanfare
Mixing influences from The Roots to The Black Keys, Fort Collins indie hip-hop band Wasteland Hop's songs are a striking back-and-forth between soulful lead vocalist Steph Jay and MC Mickey Kenny, who shatters the divide between rap and poetry. The band blends Kenny's insightful lyrics with high energy, funk-fueled beats, very much in the same vein as Colorado hip-hop artists Flobots.
After recently wrapping up their most recent tour through the state of Alaska, the band is back in Colorado and ready for its album release with their friends and community in Fort Collins.
---------------------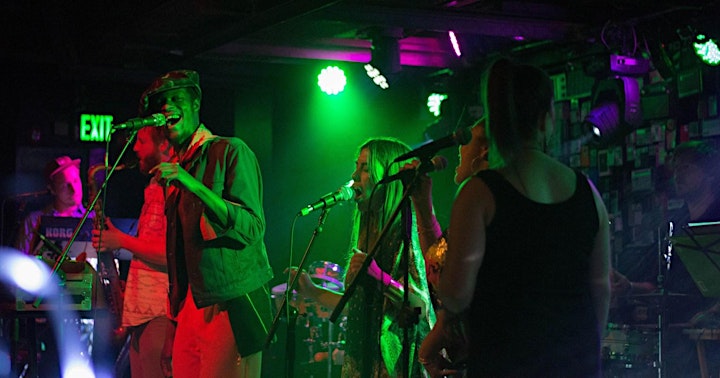 A trumpet player of 20 years, Wes Watkins is a former student of Denver School of the Arts. However, it is not the time that he spent in arts school that he credits for his musical career but the time he spent homeless that taught him how to identify the power of individuality.
From the beginning, Wes has proven that if you're in the position where you must fight for everything that you have, you can achieve anything that you want. From his humble start living as a homeless street performer, most notably as a trumpeter, Wes has pulled himself up, dusted himself off and solidified himself as one of Colorado's most renowned performers. Appearing in bands such as; Other Black, Wheelchair Sports Camp, Air Dubai, Izcalli and Nathaniel Rateliff & the Night Sweats, Wes had developed an ability to adapt to many musical styles while keeping true to his own unique flare. Watkins goal is to encourage people to experience themselves, because if we can be comfortable in our own skin, we can be comfortable with others.
"I strive to use my music to encourage people to experience the individual. I believe if you can acknowledge and accept the entirety of yourself you will find perspective in your perception of others. No matter housing status, economic status, race, gender, political association, etc. In our quickly changing world I make music to create inclusive neighborhood, because the best change supports connection to community."
---------------------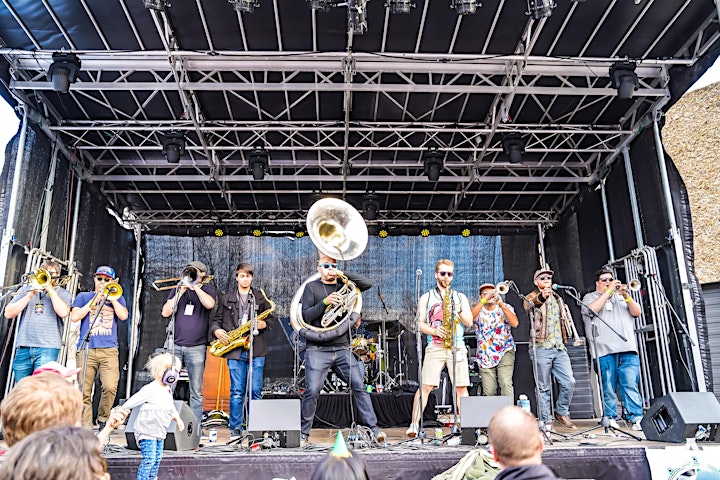 The Guerrilla Fanfare Brass Band (aka Guerrilla Fanfare or GuFa) brings raw, rowdy, unadulterated, booty-shakin' New Orleans style funk to Norther Colorado. Our mission is always to get everyone up and grooving to our relentlessly fiery and funky sound. GuFa is composed of some of the finest and rowdiest horn players and percussionists in the Front Range, and performs hard-hitting funk, New Orleans Second Line style, groovy originals, and raucous arrangements of modern pop hits.

Guerrilla Fanfare has performed extensively at venues, private and public events, and festivals like the ARISE Music Festival and New West Fest. They've even hit the festival circuit out of state, performing at Honk TX in 2017, and Honk Fest West in Seattle in 2016, 2017, and 2018. Guerrilla Fanfare won the ARISE Music Festival "Rock the Scene" contest in summer 2017, beating out hundreds of other local band for a chance to perform at the festival. GuFa was also voted Denver's favorite brass band in back-to-back Westword Music Reader's Polls (2018, 2019). They dropped their debut album "Two Rs, Two Ls" back in April, featuring 8 tasty original songs. It's available anywhere you buy and/or stream your music. Give it a listen before the show!

---------------------

Standing Room Only, General Admission Venue. The balcony will be CLOSED for this show.

---------------------

Venue Information:
Washington's
132 Laporte Ave
Fort Collins, CO, 80524